So I think the updates are catching up, though I think I will be back again after the release of the update (after all, I have it set for May 20: D, so I think there will be some more pictures again: D but what already make it, I will try more and more) . Well, I wrote about the event below, so I just mentioned that Jessica attended. This is the TechCrunch Disrupt event in New York. Jessica has spoken about the experience of The Honest in the last five years (wow, is that so much?).
"One of the reasons I started this business is because I was having terrible asthma and allergies as a child, so I had to avoid many products in my life"
Jessica wore a Colton Dane blouse, Victoria Beckham skirt, and Kurt Geiger pumps. I think it really suited her at this event. Enjoy photos and watch the video from Jessica's panel.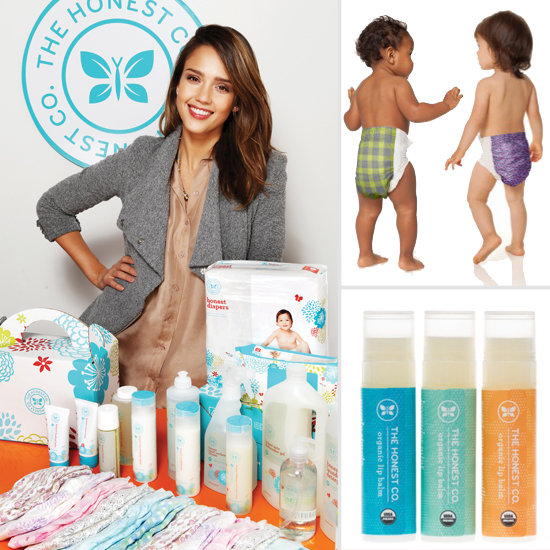 Jessica Alba tells us about The Honest Company's latest offerings and exclusive sale
It's been 10 months since Jessica Alba and Christopher Gavigan launched The Honest Company, an eco-friendly and toxin-free baby products and household items company. If anyone thinks that the actress is just the face of the company who only shows up to draw attention to the products and then goes back to her Hollywood life, they'd be sorely mistaken. The company is truly the brainchild of the mom of two — to Honor, 4, and Haven, 1 — and she takes personal pride in its success.
The company will launch its newest styles — purple leopard and green-and-gray lumberjack patterned diapers — and latest product — a trio of lip balms for mom — on GiltKids.com tomorrow afternoon as part of the company's first sale on the site. We joined Gilt Groupe, Jessica, and Christopher at Honest's offices to discuss the brand, the new products, and what moms really want in their products. And come back tomorrow for the rest of our conversation about Jessica's seamless transition from actress to businesswoman, and the products her kids like best.
Moderator: So we were talking a little bit about the partnership with Gilt; what made you want to partner with them? How did that come about?
Jessica Alba: I just think it's a great site. I love a good deal myself as a mom, and I love that they have a curation of the best in class. So because we're the best in class, and it's also a very stylish site, I just thought it would be the perfect place to have an exclusive partnership and launch our most fashionable two designs.
Moderator: And how did you decide to step out with these particular new products? What was the reasoning behind that?
JA: We have tons and tons of designs and they fall into the category of traditional, sort of whimsical, and kind of edgy. I feel like parents have kind of fallen into a couple of those categories, if not all three. I know I do, and so depending on what kind of mom you are, you're obviously going to be attracted to the different designs. So we had about 10 per category, and we went out to parents and they pulled their favorites and then everyone here at the office. That's how we end up with our designs — people choosing it.
Moderator: So the things that Gilt's launching, are they an extension of items you already have?
JA: So we already have these, and these are our boy options, and these are our girl options, and so what I was saying is this is the edgy girl option; this is the whimsical and this is the more traditional. For whatever reason, the sweets and the skulls are the ones that everyone talks about, so when our moms post on our Facebook, or whenever anyone takes a photo of their babies in our diapers, they love showing them in our edgiest designs, so we felt that would be the best to launch with Gilt Groupe. We have the highest absorbency than any other diaper on the market, conventional or eco, and then we have obviously the edgiest and coolest designs. And no other company allows you to pick and choose. If you're part of our monthly delivery program you get to pick and choose what designs you want, so you're like, "Oh, I really love lumberjack, but I also love the skulls and I love the anchors," and so you can get all of that in your monthly package if you want.
Moderator: So is that kind of what you do at home? You switch it up, too? You don't always do the cutesy.
JA: Oh, I do everything. Yeah, sometimes she wears a little black dress and then the little skulls are cute. And then, sometimes she wears a nautical look and she'll wear the anchors. I put a lot of . . . I put the boy diapers on her and the girl diapers.
Moderator: And so is the lip balm a new category for you guys?
JA: That's a new category completely and that's more in the personal care. You essentially eat whatever is on your lips, you ingest it, and it goes into your bloodstream and your system. If you're kissing your baby, you don't have to worry about any sort of parabens, no lead; it's completely natural — your baby won't get a rash. We did this [in] three different flavors, so we did more of a kind of soft minty one, a completely neutral one, and a little bit more of a creamsicle one.
Moderator: So do you get a lot of your ideas from what moms are asking?
JA: Oh yeah, for sure. That's how we knew what to even launch with initially. We wanted to cover the basic needs, so it's what are you putting on your kid, what are you bathing your kid with, and what are you cleaning your house with. We're expanding with the cleaning-your-house option because we know there are other needs, like tile cleaners and floor cleaners and toilet cleaners, things like that, the basic stuff, we covered with our launch, and now we're going into expanding it because parents want it.
Moderator: We love eco-friendly products and it's really hard to find them that tie very stylish designs with sustainability and eco-friendly organic materials, and at a reasonable price.
JA: I was . . . obviously looking for the best in class and ingredients, and then when you find that it's like a picture of a lady in a headdress and she's making it in her backyard, which is fine, or it has twigs on it. I think all of that is fine, but that's not me. I grew up with MTV, and tattoos, and rock and roll, and hip-hop. I feel like we're the moms now and there aren't any companies that are really made for us, and we're the ones that are having families. The companies that we grew up with are just so out of touch, so we try to be somewhat cool.
— LilSugar